Where there's Gun, Cream and Traffic; there's Smoke - before there was a commercial band of the same name. "Smoke" is still appealing for it's ambiguous qualities; It's trendy, it was hip for the era, references something hot, it's easy to get hooked on, and it's still a mis-demeanor in many United States. Smoke is mesmerizing to watch, even entertaining. With a graceful variety of shape, color and density, it appears like a living mystery before magically disappearing into another dimension. What's in a name? What ever the imagination brings to it. When I first heard there was a band called "The Beatles," I was immediately repulsed, yet the 'Fabulous Four' brought plenty of character to their name and it was magnetic. Smoke sounds more like a directive than a name, but it's not a requirement - unless we're having a reunion.
The original members of Smoke are:
Chuck Boisseau - lead guitar/vocals
Marc Bailin - bass/vocals
Peter Mogren - rhythm guitar/vocals
Mark Smollin - drums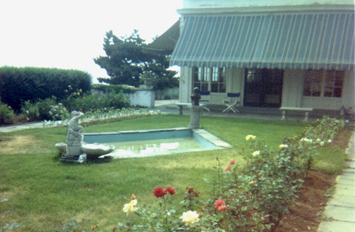 Marc Bailin brought his bass from The Shadows. Players included; Jason Williams on drums, Kim Halliday on bass/rhythm and Tim DeHuff lead guitar. They were together about two years beginning late early 1966. Their first "paid gig" was a party at Jon Morley's house. They also played Laura Jean Golden's, Chou Chou's sixteenth birthday party along with sock hops at the Northfield Church in Weston and the Unitarian Church in Westport. The band slowly dissolved or devolved. Chuck came along after a short stint with The Hearafter including players; Larry McFadden on drums, Brian Keane on guitar, Art Barton on bass, John Liemseider on keyboards. Pete was not a rock-band member previously. Mark arrived after The Wild Sect broke up because Gene Baker - keyboards and Jim McDonough - guitar, were graduating Staples.
Chuck and Pete bought matching red-starburst Guild guitars. Our first rehearsal was held in the billiard room (pictured above) at 26 Beachside Avenue with a view of Long Island Sound. My parents were kind enough to permit the racket for a couple of years, but escaped to the opposite end of the house when we jammin'. My father being the visually discriminating soul that he is, asked that the equipment not be left out between practice sessions. I would haul the amps up to my bedroom and build a wall of sound by placing a mic in front of each stereo speaker and chaining the amplifier inputs together. After awhile, Marc Bailin decided family challenges and academic aspirations would not allow him to continue. That inspired Pete to assume the bass playing position. Now as a trio with one less singer, Mark excelled at singing flat background vocals on rather heavy 3-piece material like Hendrix and Cream. The second rendition of the band added John Leimseider on keyboards. The third configuration dropped Chuck and added Steve Wall - guitar/sax/flute/vocals and Jeff Dowd ('71) - guitar/vocals. The fourth lineup added Mike Mugrage (71) - guitar/vocals and soon after Mark invited Tom Mottern onboard as percussionist and second drummer. Harry Eisenberg Joined us for an impromptu session in the auditorium in 1970, nobody remembers how or why that came to happen, but it was great.
| | |
| --- | --- |
| | |
Mark sketched the band logo (above) on plain notebook paper in the cafeteria one afternoon to give us a more professional appearance and it was executed in the shape of a circle to fit precisely on the bass-drumhead. We had to have something for promotion fast. One of the band members saw one of those bargain-printing ads with a price too good to pass up, so chartreuse-day-glow-bumper stickers were made photographically from that original drawing and we stuck them on everything, everywhere. The graphic was refined in pencil on a milky-plastic-bass-drum-head and then hand painted with black Liquitex acrylic artist color. The logo was revived for the bands' 30th reunion and printed on business cards for each musician. T-shirts screen-printed to commemorate the class event as an informal-uniform and to foster esprit l' band.
As a full blown seven-piece-rock-band we had an impressive capability instrumentally and vocally. Our greatest accomplishment was learning the B-side of the Abbey Road album in one week after it was released and performing it at Longshore for a dance event held by one of the staples classes. Equally impressive was a cafeteria dance where Steve Wall organized a horn section for some sets of soul featuring Sly tunes like "Life" and "Dance To The Music." Steve was on sax, Dan Potter and Andy Kaunitz performed on trombone, and Peter Cody and Herb Whitely played trumpet. We played another notable gig at the Staples Auditorium joined by Harry Isenberg - reported to be the loudest things ever heard at this venue - quite an accomplishment considering Cream played the same stage, as did Rhinoceros, James Gang, The Doors, Sly Stone and others thanks to Dick Sandhaus.
At this point we had proven our ability to copy challenging and intricate material. Mark tried to persuade the band to do originals with the idea that we had plenty of talent to succeed in the music business, but that idea seemed too risky to the other members. Mark tired of doing cover tunes and decided to leave the band to work longer hours at Westport Hardware and spend more time with girls. It wasn't essential to have two drummers so the change was smooth. The final fade out saw Tom Mottern, Steve Wall and John "Bean" Leimseider touring as a three piece performing Traffic tunes exclusively. (this needs work)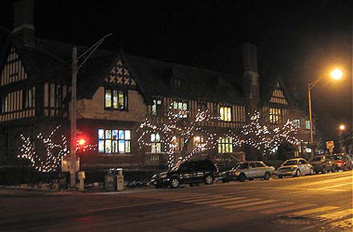 Playing the Westport YMCA seemed like an easy gig to get, probably the first gig, until we found out how challenging it was to get John's 225 lb. M3 Hammond and upright piano up two long flights of wooden stairs. Darcy Fowler used to belt out a few Airplane and Joplin tunes with us. Seemed pretty cool to have a rare female rock singer but that was short-lived.
THE PAJAMA GAME

Book by George Abbott and Richard Bissell
Music and Lyrics by Richard Adler & Jerry Ross

Based on the novel "Seven And A Half Cents" by Richard Bissell

St James Theatre, Broadway - 13 May, 1954
The Pajama Game was produced by the class of 1969 and performed in the middle of the school year. TJ Zottola, tenor par excellence, played Hines. A hip pit-orchestra was required, so naturally they came to Smoke for help. Chuck Boisseau played electric guitar and acoustic guitar throughout the show, Marc Bailin was on bass and banjo and Mark Smollin did the percussion work to accompany the female Music Director on piano. Cool numbers included "Hernando's Hide-Away, There Once was a Man and Steam Heat."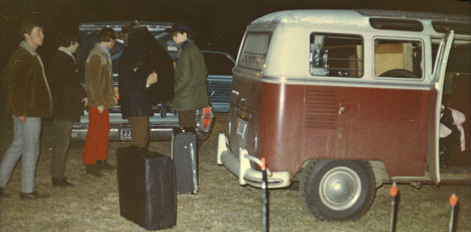 Jeff Dowd, John, Leimseider, Mark Smollin, Steve Wall, Peter Mogren loading up. It was always a challenge to pack all the instruments and miscellaneous paraphernalia in order to play a gig. We never seemed to have enough money to buy the equipment we really wanted and so we had an odd collection of old mics and speakers. We sprayed orange day-glow paint on the mic stands seen in the foreground to mark them as ours. John's three keyboards, including a Hammond B3 went into the Mogren's VW bus.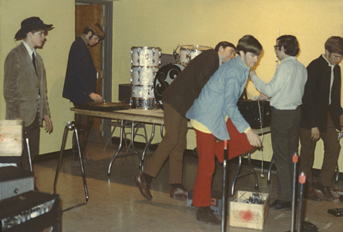 Pete, Dan Potter, Tom Mottern, Mark, John and Steve setting up for a Staples cafeteria dance with a five-piece horn section. These are the good old days! We loved it!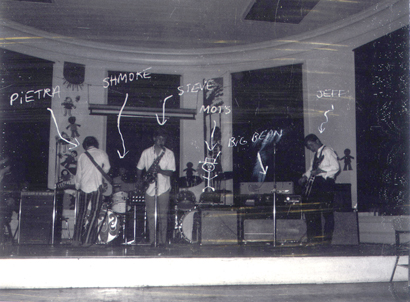 Smoke sound check at Bedford Junior High.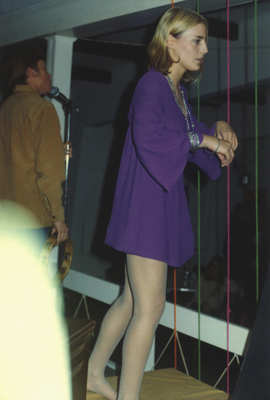 Go-go Yvonne Flinton (69) making things festively sexy for her class dance at Longshore Country Club.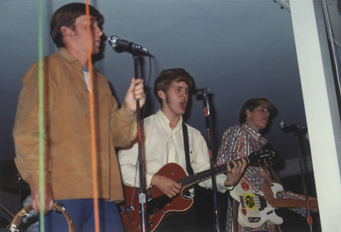 Our "jacket and tie" band" band.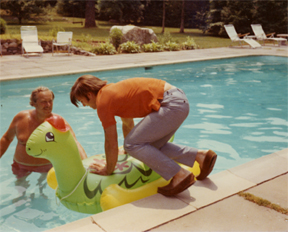 Okay, so what does this picture have to do with the band? This is a picture of the pool and one of the people who attended the most wonderful and outrageous Smoke-Skinny-Dipping-Pool-Party when the other person in this photo was out of town for the weekend. I don't want to embarrass any of the living with tabloid style gossip, so I will just note that the jumping platform was erected ten feet above the water, the onion-dip was chilled and chocolate-chip-cookies were fresh from the oven by noon Saturday. Band members came with girl-friends in arm and the beer started and kept arriving as if by magic. After the sun went down, nobody wanted moon-tan-lines, and by one o'clock in the morning, fatigued naked bodies were sleeping in fond embrace as far as the eye could see. Sunday morning everyone pitched in to clean up any evidence that fun was had the day before. Emotionally I felt quite adult, proud that nothing got broken or stained and that the police never arrived. Monday night at the dinner table my father asked quite casually, "Was it a good party?" I said, "yeah, it was great. What tipped you off?" I found a few empty beer cans in the ivy beds." And I thought I got them all.

SMOKE RISES FROM THE ASHES !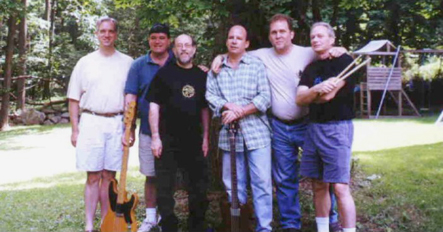 The whole band at rehearsal 2000 in Wilton - Chuck, Pete, John, Marc, Steve, Mark

In February of 2000 I received a call from Chuck Boisseau. Over the years I kept in touch with him and Jeff Dowd. "This year is our 30th High School reunion," he said, to which I replied "…And your point is?"
"I think that SMOKE should play."
"Chuck, I haven't seen most of those guys since graduation. I wouldn't't even begin to know where to look."
"I'm in touch with Marc Bailin Maybe he knows how to reach some of the guys. Give me a week. Let me work on it."

Within a few days I started to receive emails from everybody in the band. Through cyberspace the adolescent souls of six flower children from the golden age of Rock and Roll rekindled the banter and sway of thirty years past.
"That song sucks. Let's do this instead."
"No, you have to do the high harmony."
"I have to play this hard guitar part."
"Are you kidding? We played that song all the time."

It was like déjà vu all over again. Eventually, a song list of 24 tunes was hammered out on-line and agreed upon. Those songs were from the years 1967-1970 (more or less). I found myself, downstairs in my music studio, re-learning the lead guitar solo for "Heart Full of Soul," and playing that monotonous guitar riff from "Last Time" for 3 whole minutes just to get my left hand retrained. My work in classical music was set aside in deference to the alto sax solo in "Spooky" and a flute solo for "40,000 Headmen."

THURSDAY

I landed at La Guardia at 11:30 PM two days before the reunion, and Chuck picked me up in his van. He had left Providence RI that afternoon and driven to Boston to pick up a PA system for the gig. Despite both of us being exhausted we stayed up for a few more hours talking, psyched up about seeing the old rock band members.

FRIDAY

We headed out to Mark Smollin's brother's house in Weston where we were planning to spend the entire day practicing. By 9:00 AM it was already pretty damn hot outside. The last to come barreling down the dirt driveway in a cloud of dust was Marc Bailin, who, with impeccable comic timing, bumped into the back of John Leimsieder's old Datsun hatchback, just enough to give it a jolt. What a great entrance after an absence of thirty years! By 10 AM there was enough gear set up to try a song. Without expectation we launched into "Born to be Wild." Mark's drums were crisp; Peter had all the bass cues synched up. John cut loose with an appropriately psychedelic keyboard solo, and Chuck and I had a brief fuzz guitar duel, which took us back to the main tune. When the last shockwave died out there were six grinning old rockers standin' 'round. One down, twenty-three to go. Hell, maybe we could pull this off. As my reverie of rock and roll nostalgia waned back to reality, I looked up. There at the open garage door stood a neighbor woman in her bathrobe and curlers, with an angry expression. She demanded, "What is going on? And how long is this racket going to go on, etc. etc." Talk about a ghost from the past! However this time, unlike my meek high school self, who would have apologized profusely and promised to turn it down, I explained that these six people had flown in from all over the country to recreate a band that hadn't played together for thirty years, and that it WAS going to go on for one day only, ALL day, and that there wasn't any noise ordinance until 10 PM, SO THERE!!! She came back a few hours later with cold sodas and sandwiches and said that we were actually pretty good. (I think she was mostly relieved about the one day only part.) Marc Bailin fired up his twelve string Rickenbacker for Mr. Tambourine Man, which gave the song the most authentic sound possible. As the day wore on and the temperature rose, not every song proved to be as easy as "Born to be Wild." It was pretty obvious that another rehearsal was needed to do some fine-tuning the next day.

SATURDAY

The reality of it all was upon us. Saturday's rehearsal was just devoted to setting endings for songs that had fadeouts on the original album, and those kinds of fussy details. Then we packed up, and headed for Stamford to the hotel.

Smoke 2000 - The 30th Reunion
Chuck Boisseau - lead guitar/vocals
Marc Bailin - bass/vocals
Peter Mogren - rhythm guitar/vocals
Mark Smollin - drums
John Leimseider - keyboards
Steve Wall - guitar, sax, flute, vocals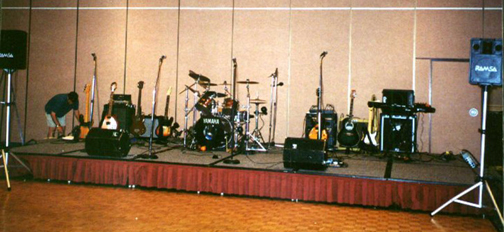 We were escorted through a labyrinth of service areas to the ballroom where the event was to take place. Members of the reunion committee were already there distributing napkins and balloons in Staples High School blue and white. Once we were set up we wanted the committee to hear a little bit to make sure that the volume level would not send people fleeing for the exits. They not only assured us that the volume was fine, but were very enthusiastic about how the band sounded. Despite their reassurances, I was getting nervous. I perform music in several foreign languages in front of twenty five hundred people at the Seattle Opera House on a regular basis, but this was different. All those old feelings of peer pressure and acceptance welled up to the surface and I was feeling kind of sweaty as people began to arrive. I could hardly touch the buffet meal. The venue felt great, lots of space and light - and a bar! All those faces! The class looked pretty sharp. It was time to get on with it.
We were announced and launched into the first two songs: "Born to Be Wild" and "Sunshine of Your Love" with no break in between. Most of the class members had gotten out of their seats and came right up to the front of the bandstand, either dancing, swaying or singing along to the songs. To be on a set of risers in a deep hall in front of the class was reminiscent of many cafeteria dances. When the second tune ended we were greeted with the most generous ovation we could have hoped for. The salute brought on a feeling of reward that has no comparison and I bow to the class on behalf of the band.All the emails, individual practice and rehearsal in the sweltering heat became worth it in that moment. Not because it glorified the band, but because it was a sign that after thirty years we, as a class, were all still on the same page about the great songs that had exemplified our era. (Sorry if that sounds too much like a quote from the Declaration of Independence.) From there on it was all easy and went without too many hitches. It was truly a thrilling experience. It was a particular joy to do The Remains' "Don't Look Back." Barry Tashian and crew were quite an inspiration to us local cats with rock-stars in our eyes and this is part of our on-going tribute them.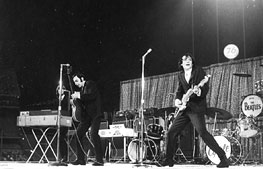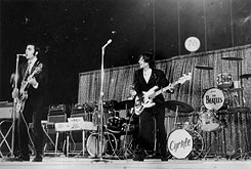 Photos from the Beatles Tour 1966. They are still performing and you can visit their website.
The second set kicked off with a percussion intro to "Gimme Some Lovin," with Steve on African claves, Pete on maracas, Mark pounding tom-toms and Vivianne swinging her sexy hip against a tambourine. Marc slapped the bass line and John brought on that screaming hook. I believe this was the first time Smoke ever performed this song. Thanks for hurting your throat on this one Steve. Denning 'stood-in' and did a powerful rendition of "Mustang Sally" that was so 'groovy' we going to have her do it again along with some other classics at Reunion 2005.
When the last chord of "Get Together" rang out and faded away, I felt sad that it was already over and overcome with a strong desire to do it again at the same time. That ended the formal, rehearsed portion of our show we took a break at the bar. Everyone made appreciative comments. Someone even asked how long we had been back together. My reply of "two days" was greeted with an expression of disbelief. I only wish I could have taken everyone up on their offers to buy us drinks.
We reconvened on the bandstand and various members of the class came up and jammed 'off-the-cuff' tunes with us as people began to leave. At one point Peter started strumming his acoustic at Denning, prompting her to sing their duet from the play they did in Saugatuck Elementary together and they both remembered all the words without Ginkgo-Biloba! At least they reported to be drug free. It wasn't long after that, Vivianne made entrance to the hall wearing a Streisand wig and speaking with a convincing New York accent, "Color me pink," which seemed to punctuate the event. By 3AM the gear was all re-loaded into the cars and vans, we all stood on the back loading dock, exhausted, but not really wanting it to end. We had collected blue and white helium balloons left over from the reunion to take home to our wives and children, but they really weren't going to fit in the vehicles, which were jammed full of the implements of rock and roll. So we released them into the air and watched them disappear into the night sky as a pledge that this most nostalgic of nights would not be the end of this adventure, known to us as, SMOKE, a rock band.
This evening stood out as one of the most memorable experiences of a lifetime. I suppose there was some anxiousness in the pit of my stomach, yet it was wonnnnnnderful to see classmates and good friends after thirty years of absence. Over time, I learned that the quality of talent in our high-school-band exceeds the caliber of performance and ability of most of my other professional associations. We are fortunate to have started life in Westport. Thank you Moms and Dads. Many thanks to Vivianne, Mary and all that assisted making this night a reality. I look forward to building new memories together in 2005.


Smoke 2005 - The 35th Reunion
Chuck Boisseau - lead guitar/vocals
Marc Bailin - bass/guitar/vocals
Peter Mogren - rhythm guitar/vocals
Mark Smollin - drums
John Leimseider - keyboards
Steve Wall - guitar, sax, flute, vocals
Denning McCleery - vocals
Geoffrey Reed - sound engineer
Special thanks to Geoff Reed for giving us his audio expertise from the goodness of his heart in Rhode Island and at the Sons Of Italy.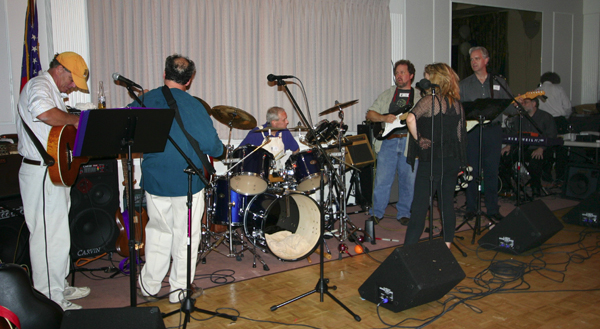 Steve Wall's narration:
A great deal had been said about SMOKE reconvening in the summer of 2005. What hung in doubt was whether there would be a 35th class reunion for us to play at. The Staples Class of '70 reunion committee lost Vivian Pommier as chairperson and time was moving quickly. In early spring 2005 it had been decided that, at the very least, we would rally at Chuck Boisseau's home in Barrington, Rhode Island and record with the new soundboard Chuck had recently acquired. The only element of the 2000 reunion that we had overlooked was a paucity of recordings of the event, both in sound and photo. We felt it was somewhat miraculous that there was even going to be "a second coming" at all, so we wanted to get that aspect right this time. To our rescue came Mary Palmieri Gai who drew the Excalibur of responsibility from the muddy quagmire of indifference, held it high and declared, "Members of 70, Rock On!" And so it was to be.
On Sunday, July 31st, 2005, I arrived at JFK on a non-stop red-eye on the new Delta/Song airline, which has the flashy new individual TV screens in front of each seat. As I watched one of the 25 channels and 10 movies I could choose from, I thought about how many technical advances and world events had transpired in the mere five years since the last Class of 70 reunion. I-Pods, digital recording boards for the home studio, my son's entire college career, September 11th, the presidency of "Dubya," the death of liberalism, you get the idea. The bus to Penn Station could not accelerate to 40 mph and everyone was honking at it and passing it in a cloud of blue smoke. Ah! The East Coast, it's definitely not Seattle with its brown rice and tofu mellowness. The train to Providence wended its way from the smoldering grit of Queens and the Bronx to the picture-postcard backwaters of Mystic and New London, where loons perched atop mossy rocks while privileged white people filled their outboard motor boat engines and grumbled about gas prices. Arriving in Providence I swung my compacted luggage from the train. Looking down the platform, I spied the outline of a tall figure with slightly less sweeping gray hair illuminated by the harsh fluorescent lighting of the train station. Chuck Boisseau extended an East Coast lawyer's handshake. I insisted upon a West Coast hippie hug. "Where is Mark Smollin?" I asked. "He is still at my house tuning up my son's drum set". "Has he been doing that since this last Friday?" Chuck's slightly pained expression served as an answer to my question.
As we pulled into Chuck's driveway the distant sound of a drum set being put through its paces blistered the 95-degree/95-percent-humidity atmosphere. And there, deep within the inner recesses of the newly remodeled basement studio, I found what remained of the glory that was once the drummer and principal driving force of SMOKE. All at once preoccupied, trim and fit, chomping upon an unlit cigarette, Mark Smollin muttered, "Think I finally have this snare where I want it." Greetings were exchanged and back to the tech set up we went.
Monday morning we broke for a bike tour of Barrington and Warren RI. Around 1 PM Jeff Dowd (Class of '71 and distinguished former Smokester) joined us and regaled us with much needed instruction on the operation of the soundboard. Jeff's technology class had barely adjourned when a rumble of footsteps was heard tumbling down the basements steps as our mercurial Peter Mogren burst upon the scene. "I've been in the car for six hours and my back is killin'me." "How about some Advil?" "Nah. It doesn't work. The only thing that helps is beer." Within moments Peter was able to ease his pain. We recorded a few blues tracks owing a great debt to our mutual veneration of the first Paul Butterfield Blues Band album and then a riotous version of The Young Rascals "Good Lovin," or "Hood-luh" as the background singers were admonished to sing. Having Chuck and Jeff putting on a lead guitar exhibition on those tracks was a luxury reminiscent of the days of Mike Bloomfield and Elvin Bishop sharing the same stage. On Tuesday we were up and running. As Jeff finished mixing a disc of the previous day's jam session, John Leimsieder and his twin son Noah arrived from Calgary. Marc Bailin and several vintage basses and 12 string guitars rolled in as well. After a few hours Mr. Dowd departed for Europe and the rigorous demands of his life as a Wagnerian tenor.
Wednesday morning arrived and with it vanished the last shred of excuse for not getting down to the task at hand. All personnel who would be performing on Saturday were now present and accounted for. We decided to start with a reality check on the more difficult songs and work our way towards the things we had played in 2000 with relative ease. Moby Grape's song "8:05" was a prime target for extra work. That band had three guitar players who would have been lead guitarists in any other band. Eventually the idea of singing this song in 3-part harmony while sashaying through these deceptively difficult guitar parts proved to be a task which would have consumed an inappropriate amount of rehearsal time. So it was eliminated. "Rock and Roll Woman" by Buffalo Springfield was the next item to be proven or rejected. After a few false starts, we adjourned to the grand piano in Chuck's living room for a singing-only rehearsal. Then I wrote out a chart of the entire song (e.g., 2 guitar riffs followed by 2 sung "doo doos," etc.) and placed one on every music stand. Returning to the studio, a full rehearsal of that song was deemed "close enough" that it was safely secured on the yes list. The Boxtops's song,"The Letter," provided a challenge not only because had we not done it in 2000, but also I had expanded the vocal to 3-part harmony in hopes of giving it a kind of campy, Kingston Trio type of sound, with a bogus "Amen" ending. The harmony was easy to pick up but it was the devil's own to remember the sequence of lyrics. When we went back to listen to the original record, we realized that they just keep going back to "Give me a ticket, etc." but each time studio brass or strings would be added to distract from this monotonous quality. We notched up the song's danceable tempo as our solution since we did not have the Hollywood strings at our disposal, and it worked well enough. "Shakin' All Over" bit the dust before one note had been sounded on its behalf. The reviewing of chords on "Needles and Pins" and "She's a Woman" seemed to drag on interminably. Steve's vocal styling on "White Rabbit" as Elmer Fudd ("…and if you go chasing wabbits, heh heh heh heh…") amused Marc Bailin to the point where he wanted to actually do the song that way in the show. That idea fortunately was voted down resoundingly, and Denning's dramatic rendition of "White Rabbit" in the show proved to be one of the highlights. "Spooky" was expanded into a multi solo format with me grabbing the spotlight not once, but twice for woodwind solos.
At one point, specific instruction on how a certain riff was actually played boiled over and Peter reverted to his role from the old days as peacemaker and told us, "We don't have to play it exactly like the record! Just play what is in your heart." That phrase became the secret password and general all-purpose "hall pass" for everything.
After we had concluded a rough work-through of all the songs, a war council was called because there seemed to be a certain malaise of disunity, uncharacteristic of the group, hanging over us like a summer storm cloud. Mark Smollin and I concluded that before we went into the final run-through dress rehearsal, members of the band should be allowed to speak freely about the tunes, now that they had been played through. Gathered around the wrought iron table on the back yard deck, the list was carefully scrutinized. There was some debate about opening the second set with "Born to be Wild". It has long been SMOKE's signature tune, and promoting it to the beginning of the first set seemed like putting our best foot forward. It is what we had done in 2000 and it worked for us. Case closed. Some of the debating and loose banter seemed like a throwback to our adolescent days, which lent the conversation both an aspect of humor and terror. It made it easy to understand how the band had undergone 10 personnel changes in a three-year period back in the late 60s. Songs were carefully re-examined for playability, danceability, and how they would rate amongst our classmates for inherent nostalgia.
Thursday awoke with a renewed sense of purpose, and the communication that had occurred the night before seemed to carry over into the rehearsal process. Everyone was really on the same page now that the ultimate "bitch and moan" session had adjourned, and it was time to suck it up and play the right notes. "Sunshine of Your Love," "You Really Got Me" and many other songs fell into line with relative ease. Thursday really proved to be "hump day" and at its conclusion the twin perfectionists (Mark Smollin and me) finally cracked a smile and acknowledged that "everything wuz gonna be alright." The day concluded with a trip into Providence and a fabulous dinner at Chuck's blue-blooded "Hope Club," complete with a private dining room. I tucked my membership card to the Democratic Party deep into my wallet to ensure that it wouldn't drop out, accidentally, in view of any of the club members or staff. There was definitely an air of relaxation and camaraderie now that the task was reasonably in hand.
Friday was consumed with Chuck bearing the cross of van rentals, P.A. equipment, and general last-minute details having to be dealt with. I was relieved to have one day of vocal rest. Since classical is my normal venue, this was considerably more wear and tear than what I am used to.
We got off reasonably early on Saturday from Rhode Island and arrived at the Sons of Italy in Norwalk on time despite horrendous traffic on Route 95. The faithful committee was up to their elbows in blue and white helium balloons, and Joanne Mogren arrived with Chris Wall (a son of SMOKE) in tow. Denning McCleary arrived and we had a sound check/brush up rehearsal. She picked up all of the material in a heartbeat. And so we were ready to go. After a whirlwind adjournment to the Norwalk Inn where we staying, we returned to find the Class of '70 arriving in droves. After scarcely eating a bite we were off and running. Shockwaves of "Born to be Wild" dissolved into a mellower "The Letter" (with Steve's goofy Amen ending). Our classmates were at close quarters singing along, remembering the words as well as we did. I was amazed to see how the songs and all the effort that had gone into them were whirling by as fast as, well the speed of sound, I suppose. What ever wasn't perfect didn't seem to matter in the pure and thick nostalgia of that perfect night as we time-traveled back to those great songs. Let's face it; we have the greatest popular songs of all time to ever frame an era. In the end, all the effort was made to give our childhood buddies a chance to hear, one more time, those wonderful songs--not in line at the grocery store as you are checking for messages on your cell phone, but as they are meant to be heard. Played by a live band, a blaring wall of sound that knocks you off your feet, in a semi-dark hall, the prospect of that ideal romantic dance partner lurking around the next corner, just out of sight. And it truly was outta sight. Peace, Love and Rock And Roll to you all, until 2010.
- - Stephen Wall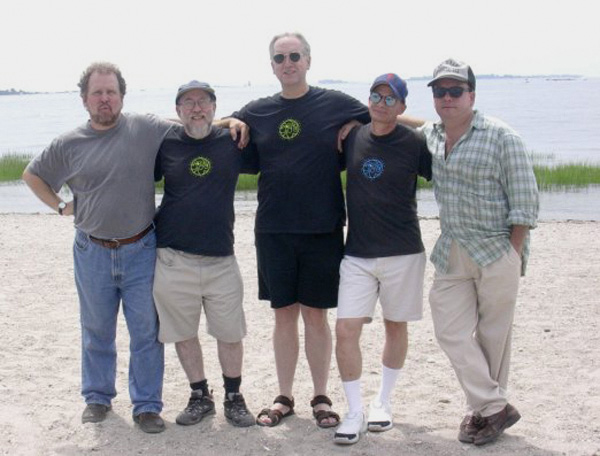 We missed ya for this one Pete!
2000–ATE SUMMER JAM John Leimseider, Mark Smollin, Chuck Boisseau, Peter Mogren, Steve Wall, Marc Bailin; All happy to be performing-guests at Hotel Barrington, well fed, well lubricated, and well looked after by Jan Hannert.
2008
After the 2005 reunion appearance there was a unanimous opinion amongst the group to keep on keepin' on, and that every five years just wasn't often enough to keep the flame which creates the "Smoke" alive. The "high" of providing live entertainment at the 2000 and 2005 reunions was extremely gratifying to us and the good will generated by our classmates seemed encouraging. But the next reunion was 2010. We would be old men, fifty-eight by then. Did we really want to wait that long before we get together again? If we weren't preparing for a public performance though, what was the purpose of such a gathering to be? Chuck had acquired some formidable recording gear prior to the 2005 gathering. We stood around it like those apes stand around the monolith in the opening scene of "2001 A Space Odyssey." We flipped a few dials and without too much intellectual strain recorded a few blues covers, which were fun to listen to in a comical, haphazard sort of way. So in the summer of 2008 we decided to once again gather around the recording console and see if we could tame it or at least get it worried. Steve, Chuck and Mark had the first crack at it and through the miracle of overdubbing we got some decent results which were added to the list of performable songs if there were to be any future reunion appearances. Marc, Peter and John joined in and we got perhaps ten tracks laid down in 3 or 4 days. Playing music without the pressure of the week ending in a public performance allowed the alcohol and the ensuing creative juices to flow freely. We could go through songs just for the sheer joy of playing without wondering how they would be rated on Dick Clark's "American Bandstand" for dancibility. We actually went out to dinner an few times and did a little sightseeing in the Barrington area.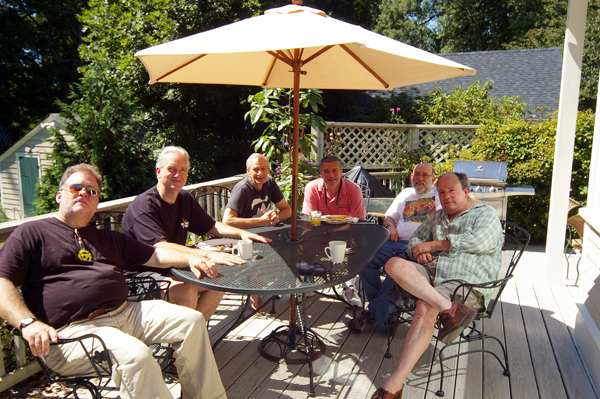 2009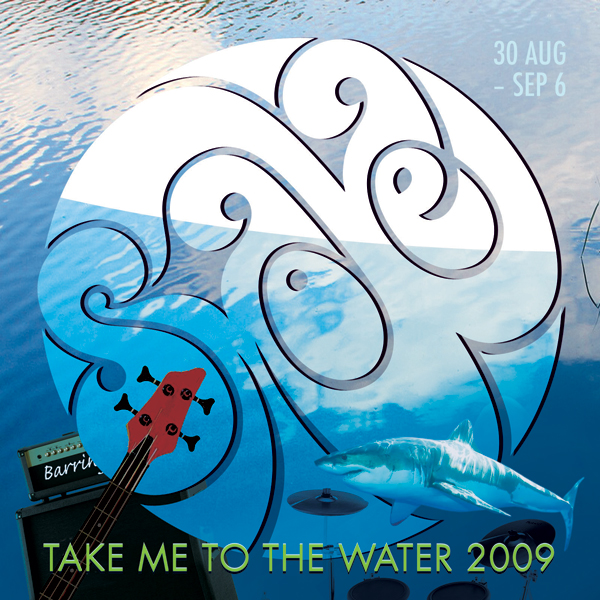 Through the miracle of the Information Superhighway (that's the one with e-mail) the musical joys of the 2008 gathering kept up even after we returned to the respective realities of our "manly duties" across the United States and Canada. Previous song lists were dissected and analyzed. Songs were discarded as too challenging to do live. We tried to play "Rock and Roll Woman" by Buffalo Springfield at both reunions and been burned badly both times. I mean, come on Doo doo doo doo doo doo doo doo doo, La la la la la la la la la, Ra pa pa ra pa pa ra pa pa. Is it too hard to remember or do you just get to a certain point where you don't care anymore? And speaking of not caring anymore, other songs were taken out for being too banal. We would rather cut the set short than ever do "Sunshine of Your Love" again. We had done "The Last Time" for the last time. Quite the opposite of 2008, recording was banned, due to the prohibitive amount of time necessary to get a non-embarrassing version of a song put down on tape. The 2010 class of 1970 40th reunion was set. Good money had been deposited. In reviewing the 2005 show one of the problems that had plagued us were the extended gaps between songs. To prepare for 2010, we decided to do little mini-sets or medleys in order to minimize the switching around of instruments so often. Songs would flow right into each other such as "You really got Me/All day and all of the Night" or "Back Door Man/Twentieth Century Fox."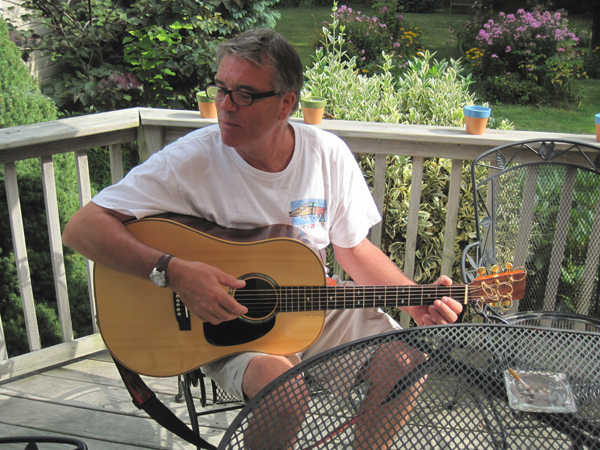 2010 - 40TH REUNION 14 AUGUST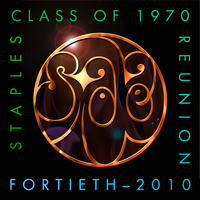 Chapter 4 "This is the End, my only Friend, The End - 2010 and Beyond.
Steve began to send out color-coded manuscript papers via e-mail of how certain harmonies might work and here they are in case you might want to practice. We were set to meet on August 10th. The impatient summer plodded along endlessly. By mid July he had run out of creative ways to rehearse the songs alone, which were set for the Smoke reunion. We had a pretty good set list, which everyone had signed onto via endless e-mails. Changes were not going to be allowed in the list (that almost held)). By Tuesday evening August 10th "Elvis was in the building" and we were ready to go. We made a late night sojourn into the basement studio and played a few tunes most of which were off the list as if to bid them a final farewell. We played Charlie Musselwhite's "Church is Out", too obscure to make the final list and "The Night Before" which went well, but not well enough to replace any of the three Beatles songs which were planned. We had agreed to rehearse by going through the planned two set list and play everything in order even if we felt that we had done any particular songs so many times that a repeat was a waste of time. The plan was to go through the whole show and not stop and dwell on certain songs and fix them right then and there but to note which songs were in need. Fixing them would be the second order of business.
It was amazing how many songs sputtered and made the list of "needs work". Along the way two songs bit the dust, "Murder in my Heart for the Judge" despite a driving rendition by Chuck was deemed, by Chuck to be, too much of a lawyer in-joke and not danceable or memorable. Then "Lies" by the Knickerbockers just didn't seem to ignite and so it was scrapped without a second shot. This happens. Previously the song "Shaking all over" which seems completely doable just couldn't launch. I suspect that any song needs one band member to advocate for it strongly. If a song is only vaguely interesting to all but no one is passionate about it, it will fall off the edge of the world quickly if it doesn't go smoothly in pretty short order. As we traveled on into the second set more and more songs seemed to teeter on the brink of elimination. We got to the end and still had 26 songs, which seemed on the verge of being presentable. With two songs down we reinstated "Fire." No one was quite sure how it had fallen off the list in the first place. "Gimme some loving" was a given, very recognizable and danceable, even if we were a bit tired of it. Also bringing it down to a reasonable key gave hope to the idea that its lyrics might be understood, which would be a first. We also did some re-arrangement of the order we had originally intended so that we could front load three extremely danceable songs at the get-go.
That Tuesday night/Wednesday day run through of list took us until Wednesday afternoon to finish, despite the idea that it was supposed to be a run through come hell or high water. After a liberal break, which was agreed upon by all, even Steve, we settled down to the business of detailing all the songs, which needed improvement. Chords were corrected; vocal harmonies were checked and rehearsed. "How many times does the refrain say "All day and all of the night" was verified (it's three, not two by the way). The fact that the response of "Doctor" is only sung the first, second and fourth time during the verses of "Good Loving" was reinforced. Boy, for an art form, which many deem droning, over simplistic and repetitive, Rock and Roll can sure be complicated!! Then there is the task of creating endings. Back in the sixties, single songs were just faded out because the original artists were too stoned to come up with an ending or the song had to fit on one side of a forty-five RPM record. Wednesday night we started the process over again. More extensive work was done on each song. As Wednesday night blurred on into Thursday morning it seemed as though some of these songs might not get a third chance to be reviewed before the show on Saturday. Peter led us through a fresh version of "Get Back" at the tempo of "Johnny B. Goode" which actually worked. I think that may have been the moment we started to feel somewhat bullet proof. If we could pull that off then we could make anything work. A cloud of doubt seemed to dissipate and my typical anxiety relented, slightly. Friday's rehearsal flowed easily and without any real formality people just headed upstairs seeming as though the work was done and we were ready. I had to agree. I muttered something incoherent about making each other look good and people wandered off to return calls, check e-mails and get on with the business of packing it up and taking it down to the Norwalk Inn.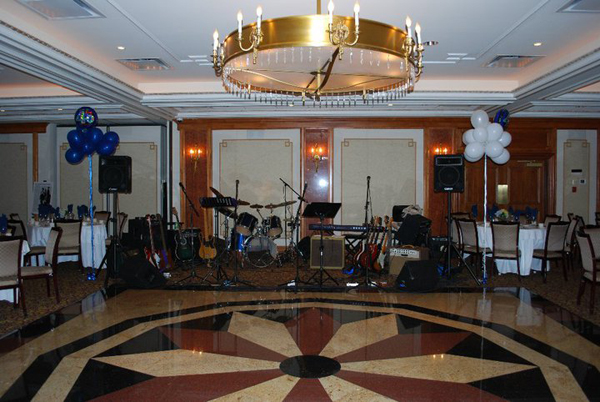 The newly remodeled ballroom of the Norwalk Inn had a low ceiling and was really live acoustically. That wasn't going to change too much with 200 people in there. At the sound check we decided to turn down as far as we could, using the softest drumming Mark could give us without sounding lifeless as a gauge. Let's face it. A room full of fifty-eight year olds is going to spike in terms of the number of people who are gong to get cranky if the music is too loud. Janice Hannert, Dan Potter and Ellen Sandhaus listened as we tweaked everything to the best level we could have. Dinner ran late and then it was Showtime.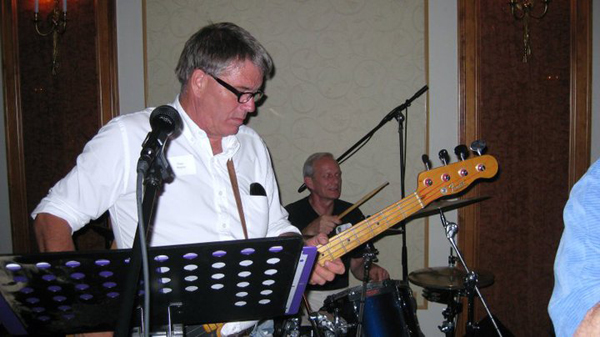 1] Born to be Wild, now in the key of D and not the usual mega-shock of volume we usually present. It was nice to hear the organ solo out front.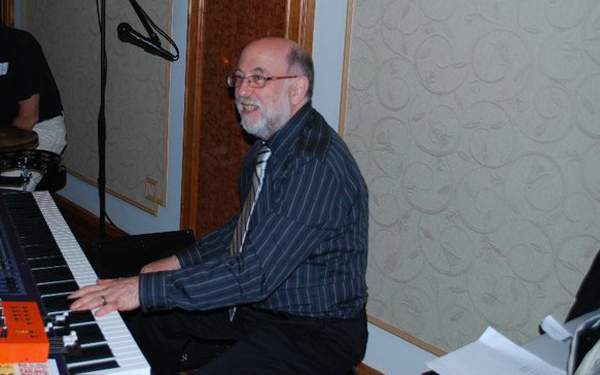 2] Fire also in D by now the dancers were up and running in a big way, mouthing every word. This class knows these tunes.
3] Good Love. "Hood luh" kicked off another type of feeling actually more up tempo than the first two. The inverted 6/4 harmony choral response worked great and everyone remembered what to do. This may have been the song that absorbed the most rehearsal time so it was satisfying to have it go well.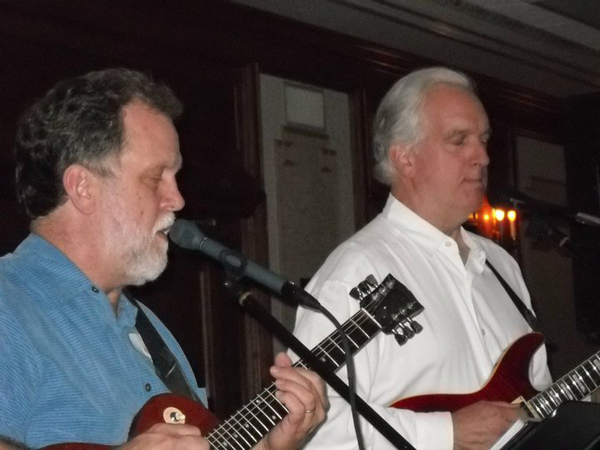 4] Love Is A Beautiful Thing
5] Mustang Sally. Denning joined in, on "Mustang Sally" much to the delight of her fans in the class, which led to an immediate segue way into:
6] WHITE RABBIT
7] Bring it on Home to Me
8] We gotta get outta this Place. Finally a slow dance followed by Marc's gravel-bottomed version of the lows of Eric Burdon with Steve doing the Eric Burdon highs. Great job on the three-part harmony with the dancers singing along.
9] Get Back. Not quite as fast as the Johnny B Goode tempo from rehearsal but definitely a new feeling. We should change it up more often and be less literal.
10] I'm Down. I'm down had a nice Jerry Lee Lewis mania to it with a classic train wreck ending.
11] Please Please Me had excellent focus on vocal harmonies by all rendering the song recognizable. My god, we did three Beatles songs! Can anything stop us?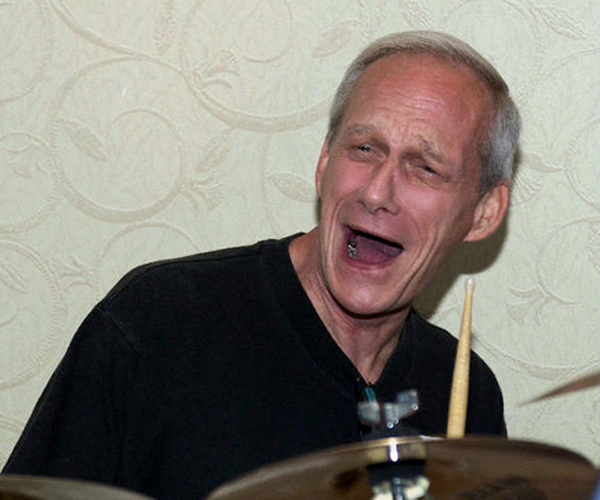 12] Mr. Tambourine Man
13] I'll feel a Whole Lot Better Two 12 strings makes a McGuinn sound. Easy singing and all parts present and accounted for.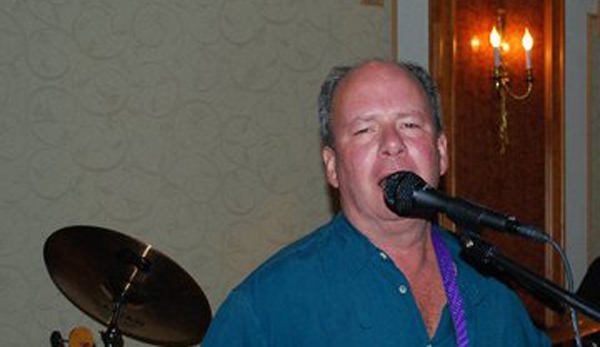 13A} Runaway - The Mercurial Ms McCleery is back on stage. 14] Hey Grandma closes the set in raucous fashion with a few hiccups. Maybe due to the Robitussin and Elderberry Wine.
INTERMISSION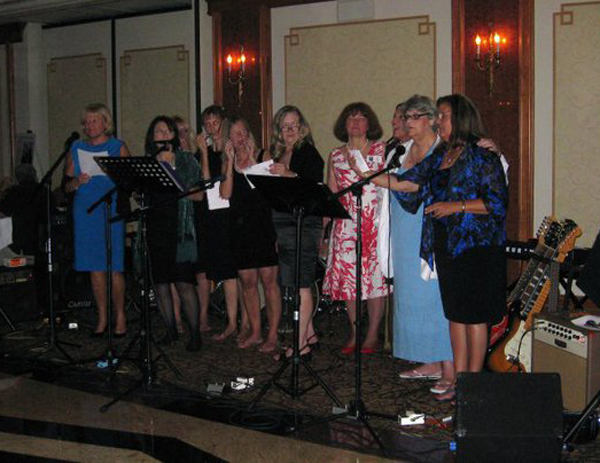 IN MY LIFE - Class members sing the nostalgic Beatles tune led by the Captiva Girls.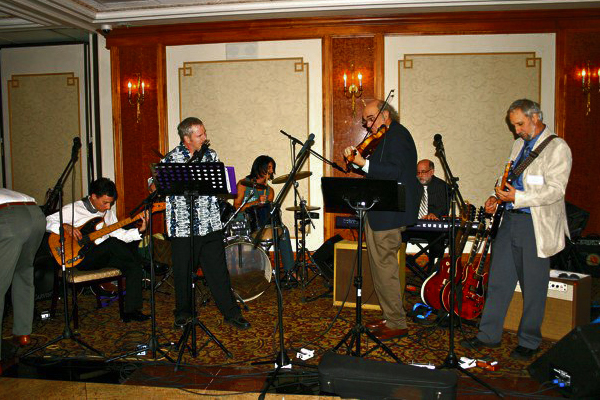 GREEN ONIONS an impromptu band jams very capably. We are a talented class! Bruce Coviello - bass, Kevin McKenzie - flute, Jason Williams - drums, Thomas Hanford - fiddle, John Leimseider - keyboards, and David Giardina - lead guitar.
15/16] You Really Got Me/ All day and all of the Night, a medley of two ridiculously similar songs kicked off the second set.
17] Mr. you're a Better Man than I
18] Shapes of Things. Ellen Sandhaus made it down just in time to hear her requested Yardbirds tunes. People knew the chorus of both songs and sang along heartily "COME TOMMORROW…"
19] It's All Over Now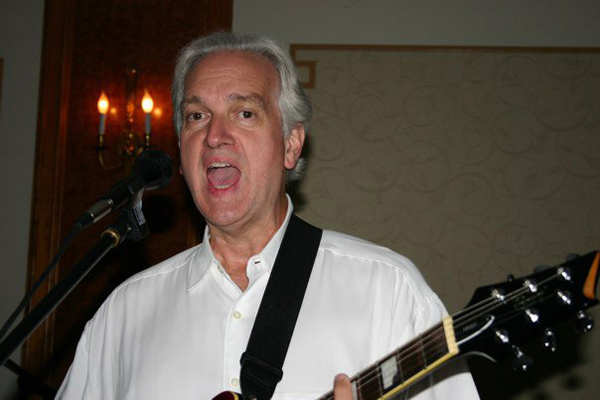 20] Jumping Jack Flash. The country feel Chuck wanted here was very much in evidence Mad gyrating dancing continues. It's hard for Westporters to imagine being born in a hurricane or being raised by a toothless bearded hag, but some may have been.
21] Don't Look Back
22] Why do I cry? As the Remains were announced there were calls of recognition. They clearly belong to our class and are well remembered.
23] Born Under a Bad Sign. Jason Williams spelled Mark on drums for a Smollin vocal extraordinaire!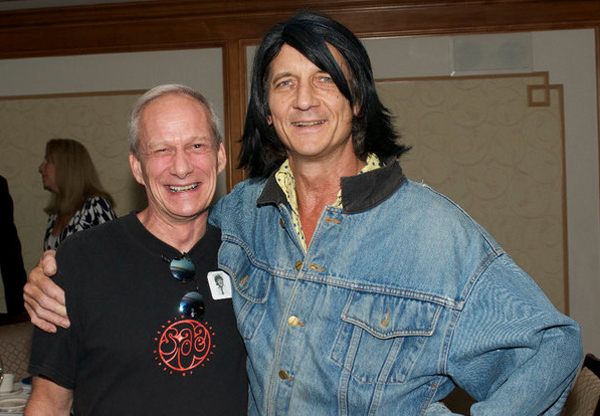 24] Back Door Man
25] Twentieth Century Fox
26] Light My Fire. Despite the fact that it is hard to compete with Jim Morrison the three Doors tunes were appreciated. The issue about the final sung note of "Light My Fire" being operatic or too long was a mute point due to the fact that by then our classmates were singing along at such a voracious decibel that we were almost a karaoke band! Rock on '70!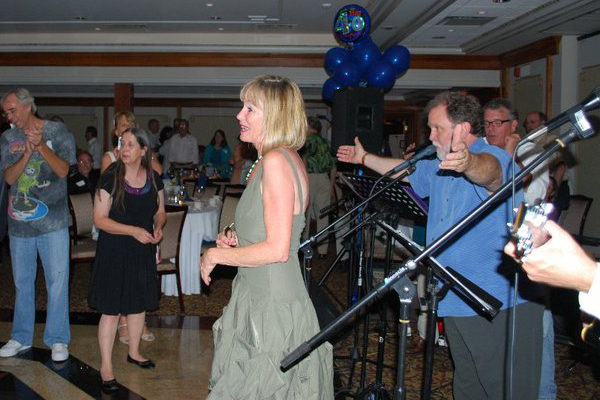 27] Gimme Some Loving. With 1:00 AM just around the bend I hoped we would be able to get these last two songs in before management pulled the plug. The dancing throng was NOT ready to cool down for a slow dance!!! If Will Ferrell had been there we would have had a cowbell player for this song but I don't think anyone missed it in the frenzy of the moment.
28] Get Together. We announced that this would be our last song. Because my only responsibility in this song is back-up singer I could afford to let my mind wander a bit. Earlier in the day I had run into Jim McDonald who I had known better in Jr. High, church and Boy Scouts. We hadn't been in touch as closely in High School. Jim stands about 5'11". At age fifty-eight he has a full head of hair, which is as jet-black as it was in High School, not even graying at the temples. His chin is classically chiseled with no droop of aging. He is completely buff and his voice has deepened and picked up the faintest trace of a Virginia accent. He told me about his successful business and his functional, independent adult children and his beautiful home, not in a bragging way, but because that was his story. And then he told me that he had not wanted to come to the reunion but had been convinced to do so by another of our classmates. Mostly he remembered the bitterness and cliquishness of our High School class and the frustration he felt at being marginalized outside of the in crowd. I looked at him standing there. This fifty-eight year old stud-muffin with the world as his oyster reflecting on the pain that he still carried after forty years. I'm sure that in his daily life he doesn't ruminate excessively about these things or take psychotherapy for them, but that it was coming back to Westport and having this as the reminder of that part of his youth that he would rather forget. As we were singing the last verses and refrain of the song the words came into my head with a slight shift in the accent. "Come on people now, smile on your brother, EVERYBODY (beautiful, homely, tall, short, thin, fat, smart, stupid) get together try and love one another right now." As I was singing those words and thinking about what Jim had said, all 200 or however many were still remaining at that moment of the class spontaneously form one circle, which was more of a hug than a dance.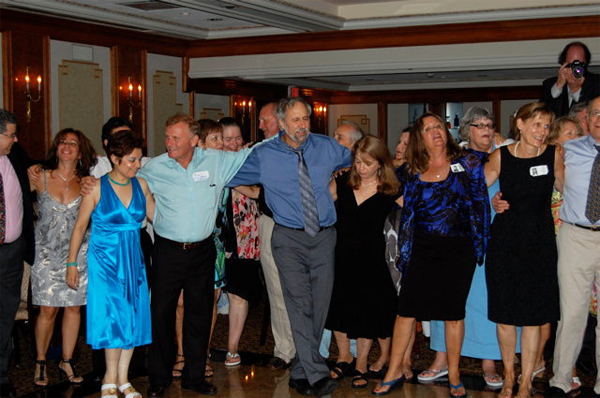 Forty years ago we had heard the words of the Youngbloods but it was like pouring pomegranate juice on non-porous porcelain. Maybe it has taken forty years for those words to travel from our ears to our hearts, but we were not ready in 1970 to live those words. This is the thing about the performing arts though. Fleeting moments, shadows. Hey, I'm not naïve. This moment did not turn all of those people into saints of brotherly love. For all I know some people may have gone back to a behavior of exclusion the next morning at breakfast. But what a transformative moment like that can show us is the possibility of how we might behave. So the next time we are standing at the crossroads and need to make a choice something from "the mystic chords of the better angels of our nature" might drift down from that moment and make us say "Yes" one more time to life.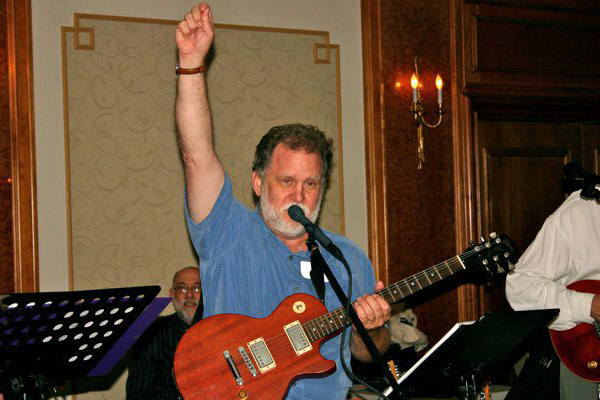 For my part the reunions of 2000, 2005 and 2010 and the experience of Smoke, rising from the ashes may stand out as one of the deepest feelings of friendship of my life. My marriage to my wife, who is my dearest treasure and the bonds I have formed through a life of professional classical music making and teaching are expressed in a measurement of reality that is sweet and in the now. I can reach out and touch those things any time I want to. I am amongst a tiny fraction of humanity who is highly blessed. But we have had the chance to reach through the mists of memory and re-examine who we all were in that distant past. This only occurs as the sun sets or in the moment before we fall asleep and think "was it real?" It is something that cuts through the layers of our spirit with a mighty force. May that force be for healing, reconciliation and allow us to radiate an inner beauty in our daily lives as we travel back to the year 2010.
Is their more Smoke on the horizon? It's hard to say. Jam sessions in Barrington at Chez Boisseau? Probably. More reunion appearance? Makes me tired just to think about it. The 2010 edition of Smoke was the fulfillment of the potential I had heard in those 2005 recordings. In that respect it was a musical apex not likely to be exceeded by us. My adult life is periods of rehearsal, which build to a performance and then it is over. The sound moves out beyond the range of our hearing and is gone. It's all I have ever known. Am I an applause junkie in need of constant approval and recognition? Hopefully less so than forty years ago.
Perhaps we could be more hands on at some later date and provide backup for the many talented members of our class. The Green Onions jam and the singing of In My Life seem to be where to look towards in the future.
In heaven the members of Smoke all live between Clinton Ave, Fillow Street, and Sniffen Road. We have infinite amounts of rehearsal time. As the music wafts out into dusk, promising young women walk past, stop and listen, smile, make a gesture of dancing and walk on. We ride our bikes down to Kleins where a new album by Jefferson Airplane or the Beatles is waiting to be discovered. We walk down to the endless summer at Lee's Pond and jump off the rope swing into those cool soothing waters. We get into Chuck's lime-green Mercedes and head up to Carvel's.
- - Stephen Wall
2011 JAMMING BARRINGTON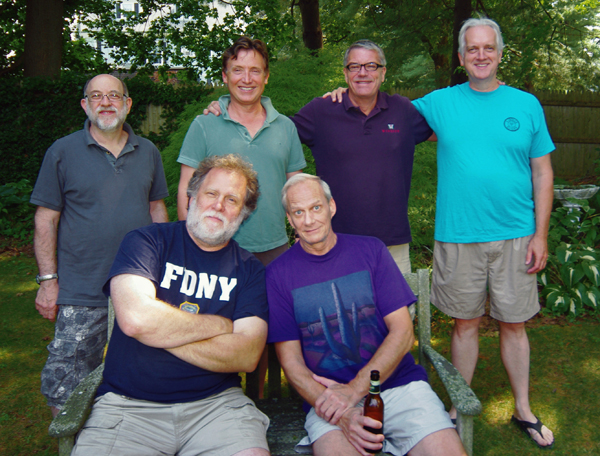 Smoke portrait of the Fourth Sequential Annual-Gathering; six snappy dressers, four happy, one smug, one dazed, one missing, and one non-musician jammed Barrington 15-18 August 2011.
2015 45TH REUNION